It was a great day for the Snowboard Cross (SBX) event.  The skys were partly coludy and the winds light at Cypress Mountain.
There were nearly 4000 disappointed fans because the general admission area was closed due to poor snow conditions.  Apparently people were sinking up to their waist in the ground which was made up of snow and straw.
Less fans meant less lines at the concession stands. Only 30 min in the lunch line.  The chilli was decent. (Buses home had about a 30 min wait as well, but they were organized today.)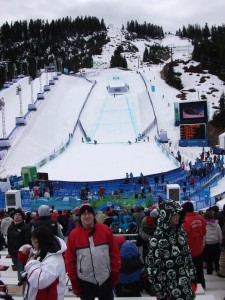 For those unfamiliar, snowboard cross event rolls out like this:
There are two timed runs.  Best one counts.  This is to get the field down from 35 (in this case) to 32.
The competitors are organized into heats of 4 depending on how they finished in the timed runs
In each heat, the top 2 move on, the bottom 2 drop out.