On a blustery evening today, Heil took the silver medal in moguls with a solid performance.   I was lucky enough to be sitting next to a large contingent of her family and friends from Edmonton.
There were two other Canadians in the event: Chloe Dufour-Lapoint competing in her first Olympics and veteran Kristi Richards who put it all on the line.  Kristi started out extremely well, but could not keep up the pace and lost control.
Rain pelted down during the during the qualification round as well as the final.  The fog shrouded the top part of the course during the first part of the final round making it difficult to see the athletes.  Overall the conditions were very poor and a good day to stay in the city.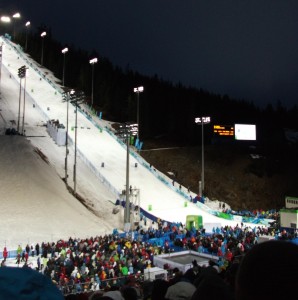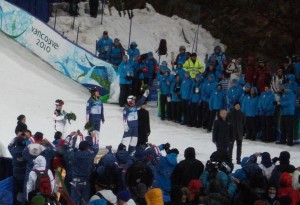 Results: Ladies' Moguls Final
1. 
Hannah Kearney
26.63
2. 
Jennifer Heil
25.69
3. 
Shannon Bahrke
25.43